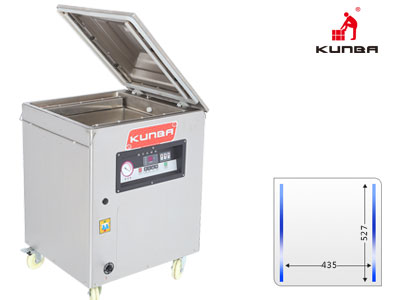 Previously, Megg introduced to you what adjustments need to be made to the equipment before using the vertical cabinet vacuum packaging machine. In this article, Megg will then analyze the correct use of the vacuum packaging machine as follows:
1. Turn on the power switch;
2. Open the packaging bag strips, and put the packaging bag into the working room. Here I want to remind everyone that the product should not be too full, and the article should not be less than 4 cm from the mouth. Then put the packaging bag in the working room, and place the sealing part on the silicone strip flatly without overlapping the bags. Turn over the packaging bag bead to press the mouth of the packaging bag well.
3. Hold the handle (or press the edge of the upper cover) and press down on the studio. Close the lid, the machine automatically completes the vacuum packaging process according to the program and automatically opens the lid. Some equipment is equipped with an emergency stop switch.
4. Turn over the packing bag and take out the packing bag to complete a working cycle.
5. Turn off the power switch and pull out the power plug when you stop working.
If your vacuum packaging machine is fully automatic, adjust the speed adjustment time relay on the equipment panel according to the automatic working speed of the studio on the equipment and the working speed of the operator.
---
CONTACT KUNBA
Request a quote? As for more information about our vacuum packaing machines of special options? In need of technical support? Contact Huaqiao with all you question during office hours.From Monday to Friday, 8AM-6PM(UTC+8:00)
No. 15, Gangfu Rd., Airport New Area, Wenzhou,China
+86-13857711173
+86-577-88996613