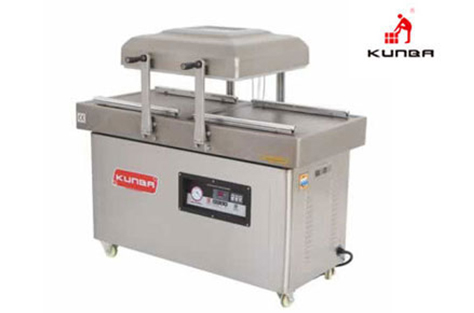 The double-chamber vacuum packaging machine is composed of five parts: upper working room, lower working platform, rack, electrical system and vacuum system.
Working process: first close the cover, and the vacuum pump draws air from the working chamber. When the predetermined vacuum degree is reached, the vacuum pump stops working, the pressure valve opens, the airbag is inflated, the pressure strip is pressed down to tightly seal the seal, and the heat seal is energized and heated for a few seconds After the heat sealing strip is powered off, the heating is completed, the pressure strip continues to be compressed and sealed at a delay of 2-3 seconds, the air release valve is energized and opened, so that air enters the working chamber, and the cover is automatically opened to complete a working cycle.
The double-chamber vacuum packaging machine has the functions of vacuum pumping, sealing, and printing at one time. The vacuum degree is adjusted by the time relay setting switch. The sealing temperature is adjusted in three stages of "low, medium and high", and the heating voltage of the transformer is different. The sealing temperature and heat-sealing time are controlled by a digital display time relay. The machine adopts a product-printing device that is easy to change and clear, in order to comply with the provisions of the National Food Labeling Law.
The control panel is controlled by a time relay. The operation is simple and convenient. The time is adjusted according to different packaging requirements and different packaging materials. When working, you only need to press the vacuum chamber cover to complete the entire vacuum packaging process according to the automatic program.
The advantages of the double chamber vacuum packaging machine are:
1. Adopting food-grade vacuum pump with high vacuum, which meets the national requirements for food packaging
2. The heating strip is treated with special technology and is not easy to break
3. Improved transformer and electric heating rod, easy replacement of electric heating belt, long service life, more beautiful and reliable sealing.
4. Single operation, low failure rate, with dual temperature and dual control, one transformer controls one seal to make product packaging more even
---
CONTACT KUNBA
Request a quote? As for more information about our vacuum packaing machines of special options? In need of technical support? Contact Huaqiao with all you question during office hours.From Monday to Friday, 8AM-6PM(UTC+8:00)
No. 15, Gangfu Rd., Airport New Area, Wenzhou,China
+86-13857711173
+86-577-88996613